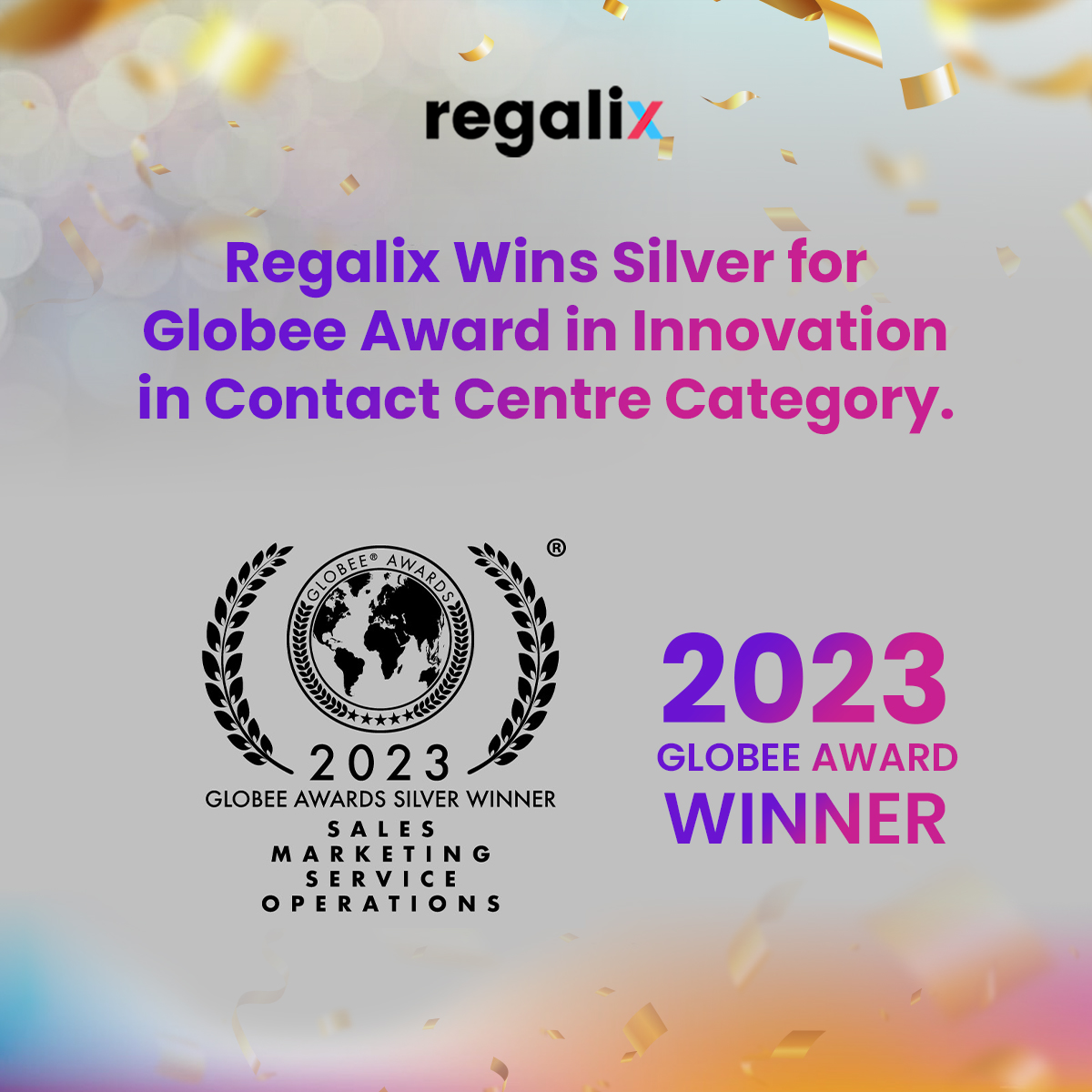 Regalix Wins Silver Globee® Award
for Innovation in
Contact Center Category
Our AI-Powered Solutions Are Driving Growth and Improving Customer Experiences
Regalix is proud to announce its win at the Globee® Awards in the Innovation in Contact Center category. Our achievement highlights our commitment to developing cutting-edge solutions that transform the customer experience.


About Globee Awards:
The Globee Awards is an international business awards program that recognizes organizations of all sizes and industries for their achievements in innovation, customer service, and growth. With a mission to honor the best in business, the Globee Awards strive to identify companies that demonstrate excellence and inspire others in the industry. Through a rigorous judging process, winners are selected based on their ability to innovate, impact on their respective industries, and overall commitment to excellence. Winning a Globee Award is a prestigious honor that showcases a company's dedication to providing exceptional products and services to their clients.


Regalix's Win At The Globee Awards:
Regalix's Innovation in Contact Center submission focused on Nytro.ai - an AI-powered conversational intelligence tool for sales-readiness. Our solution enables businesses to automate their sales-readiness process, empowering sales teams to deliver consistent, high-quality messaging.
At Regalix, we believe that our suite of digital marketing and technology solutions can help businesses of all sizes achieve their marketing and sales goals. Our conversational intelligence tool is just one part of this suite, which includes a wide range of solutions for maximizing ROI and driving growth. Winning the Silver Globee® award is a testament to our dedication to innovation and unwavering commitment to helping our clients succeed in their respective industries.

"We are honored to be recognized as a Silver Globee® winner in the Innovation in Contact Center category," said Vikas Sharan, CEO of Regalix. "This award is a testament to our commitment to innovation and our focus on delivering cutting-edge technology solutions to our clients."
Impact On Regalix's Clients:
Regalix's win of the Silver Globee® award in the Innovation in Contact Center category significantly impacts our clients. Our clients can now rest assured that they work with an award-winning company dedicated to innovation and cutting-edge solutions. They can feel confident that our suite of solutions, including Nytro.ai, are among the industry's best and will help them achieve their marketing and sales goals.
Moreover, our clients can benefit from Nytro.ai's comprehensive solutions for onboarding, coaching, agent readiness, and conversational intelligence, all designed to improve agent effectiveness and enhance customer experiences.
The onboarding solution streamlines the process of training new agents.
The coaching solution provides real-time feedback to improve skills and performance.

The agent-readiness solution assesses performance and offers customized recommendations for improvement.
The conversational intelligence solution analyzes customer interactions and provides insights into their needs and preferences.


Our win at the Globee Awards gives our clients confidence and assurance that they are partnering with a forward-thinking, innovative company committed to their success.
Contact Us Today
Learn more about Regalix and its success by connecting with us today!
Our team of experts is ready to answer any questions and help you get started on your path to success.
Revolutionizing Sales Training with Nytro's Innovative AI Technology
Leveraging the power of AI in sales: Featuring Nytro
AI-based Sales Enablement Tool for Led Gen: Featuring Nytro
All trademarks, logos, and brand names are the property of their respective owners.

©2023 Regalix, A Marketstar company. All rights reserved | Privacy Policy | Cookie Policy